One Black Ball and Two Glass Eyes, 2010
I found the Black Ball in Warsaw, Poland, one one of my many visits there, in the Agrykola Park near Ujazdowski Castle. I kept it in a wooden pot made from fragant Moroccon Tuya wood that I had bought in Paris. At one point, it was joined in there by two blue glass eyes from an oculist that had been a prop for a video. The whole object was therefore half Polish, half French and wanted to be looked at, while looking back.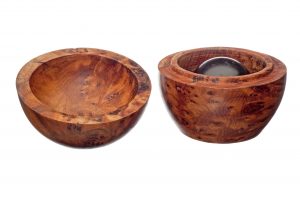 In the spring of 2010, Patrick Komorowski and France Fiction invited me to participate in a "Séminaire à la Campagne". They had asked different artists to reanimate the moment captured in photographs by Eustachy Kossakowski in 1964: when, in the countryside near his home in Zalesie, Edward Krasiński let his Lance float through the air.

Edward Krasinski with Dzida (spear), 1964, Photo: Eustachy
The lance is a blue rod made of wood and consists of several parts held together by a thin string. The string is not visible in the photos. Hanging there in mid-air, it looks like a thing that both hovers and flies at the same time. We were asked to reconstruct or construct something analogous to that moment in the countryside out-side of Paris; it was explicitly stated that none of this was to be documented, as the photos from 1964 were to be the documentation of our work in 2010. I broke this rule, because for me, my photos are not a documentation but duplication or a projection of that moment in 1964, which expands over several different times and places. It was, in other words, about creating a "bullet hole" (Duchamp).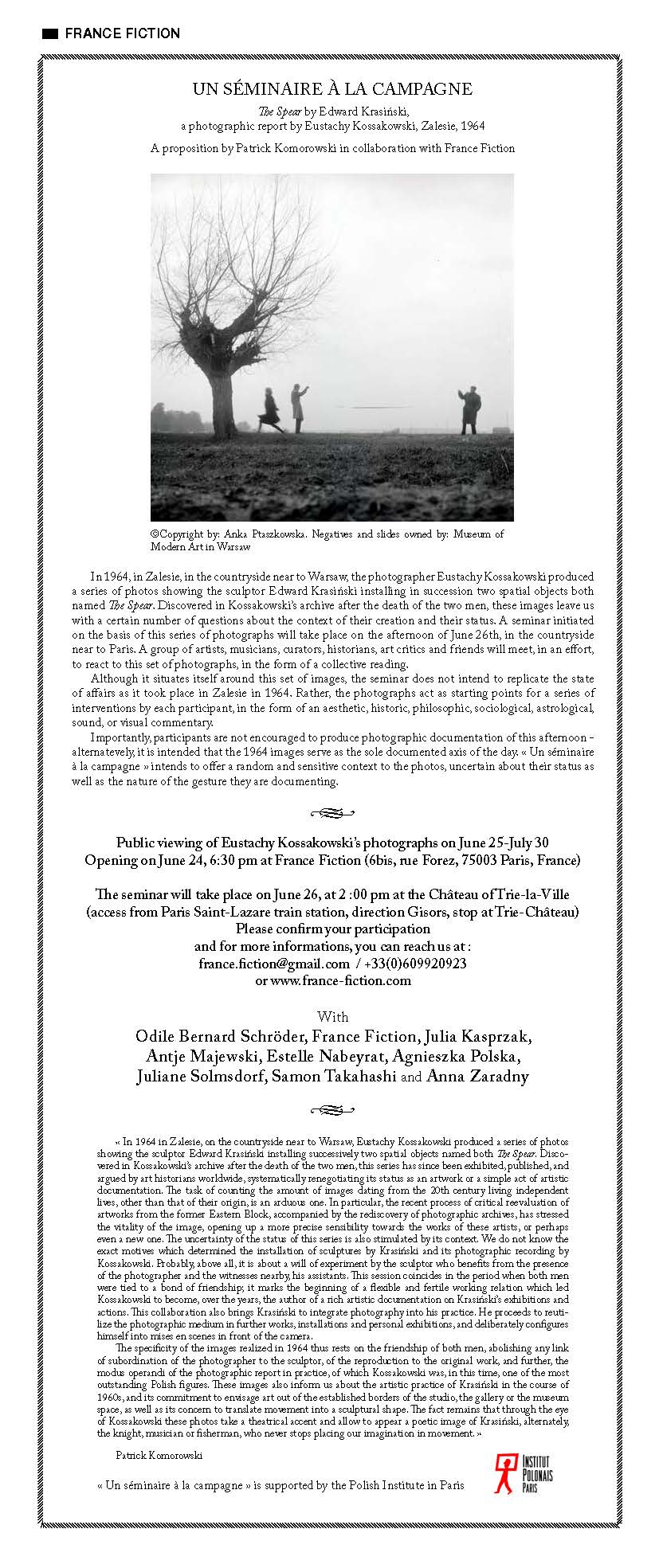 At Schönefeld airport, I was told that my flight was cancelled. Standing in line behind me was Agnieszka Polska, who was also invited to the séminaire. And during our odyssey from Berlin to Basel and a train from there to Paris, I told her that I had already started the seminar by going to Warsaw and doing a kind of drawing on the terrace at Krasiński's studio-apartment, by letting a black ball roll and knock against the terrace floorboards as if I were playing billiards. Actually, I would have liked to let it sit in his apartment for a while, among all the other objects, so that they would have a visitor. I also told her that the ball had already been to Senegal, where I had discussed it with the artist El Hadji Sy.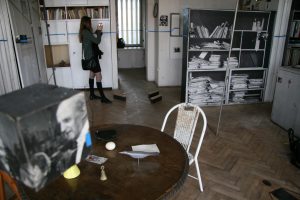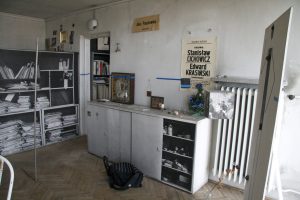 Studio of Edward Krasinski in Warsaw
Krasiński himself had always had lots of visitors there, and so the first idea that his gallery—the Foksal Gallery Foundation—had was to keep his apartment open to other artists. But I was told that I couldn't because it had now been turned into a museum. A museum, however, whose objects were left to decay and that explicitly did not want to preserve anything at all.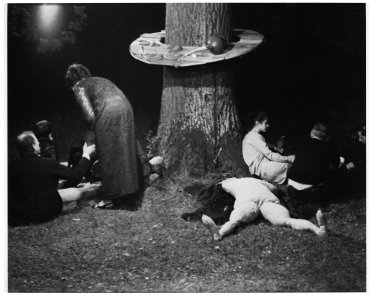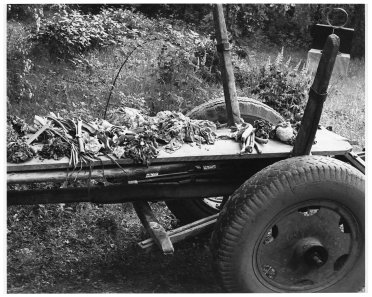 Edward Krasinski et al./Jacek Maria Stoklosa
From the series "Ball in Zalesie", 1968
Edward Krasiński had spent only some of his life in the country—his happiest, as one Frenchwoman told me. She had been there as a guest as a young woman. A great ball was held there; he was still together with his wife Anka Ptaszkowska, who then moved to Paris with Kossakowski, and he wasn't drinking. He actually lived in Warsaw, on the top floor of a socialist housing block. Krasiński lived there among his surreal objects and large black-and-white photographs, which doubled the furniture and has allowed his gallerist (as a life-size photograph) to play table tennis with him to this day. (The world appears as a double, or hangs perhaps on a hinge that can rotate …)
At the Séminaire à la campagne, I presented a text in which I report on my visit to Krasiński's studio. I also allowed the others to recreate the Warsaw drawing on the grass and aim the ball into the little wooden container, which stood in the middle. When finally someone hit the target, the two glass eyes jumped out. I gave one of the eyes to Patrick Komorowski and buried the other in the ground. This anchoring was my "bullet hole": the space of the studio was drawn on the grass, I could now go through the door and enter the apartment where they had forbidden me to place down the objects as a visitor, and bury something there after all. And in this way, I claimed, it was possible to travel to the countryside, to Zalesie. That is where the ball is right now. There is fruit lying around the tree; dolls and people participate.[1]
When I talked again with Agnieszka on the flight home, she said, "Your black ball reminds me of a Polish conceptual artist from the 60s," and I said, "Paweł Freisler?" We were both astonished because as an artist, Freisler is a legend known only to few. He vanished about 20 years ago, lived "in Norway" and supposedly worked in his garden "with apples", as I had heard from friends. All this was part of his work, which had long consisted in not showing any material artworks, but circulating legends instead. [2]
The Black Ball became one of the Objects of the World of Gimel. And it let to a lot of other works, and a collaboration with Paweł Freisler…
[1]Then something very strange happened. For some time, I had been playing a situationist game with Juliane Solmsdorf. We had Mathilde Rosier give us a list of street names in Paris that meant something to her. We went to these streets as though it were a blind date. I had also played it once with Delia Gonzalez; in that case, the game brought us to a street filled with African shops that also sold magical things. Now, there was only one street left: the Rue Campagne Première. Juliane Solmsdorf, Patrick Komorowski and I drove there the day after the séminaire. It was a small cul de sac, nothing special. And then Patrick said, "This was Anka Ptaszkowska's gallery, you know that, right?" Of course I did not know that, and I was shocked. The woman who had been with both Krasiński and Kossakowski had run a very interesting gallery for conceptual art—right here in this street, of all the thousands of streets in Paris! And our situationist game, the one that began two years ago with a list of street names, led me there. After that, I was hardly surprised when I learned that Duchamp had often stayed at a hotel just a little bit further down the road.14 It was in this street that Yves Klein photographed his leap into the void, and here that the final scene in Godard's Áu bout de souffle was shot–the one in which Belmondo dies. It's really just a small, ordinary street. "Ne s'étaint que ce qui brilla … /Lorsque tu descendais de L'hôtel Istria/ Tout était différent Rue Campagne Premíère,/en mil neuf cent vingt neuf, vers l'heure de midi …", Louis Aragon, Il ne m'est Paris que d'Elsa.
[2] Łukasz Ronduda, "Anormale Wirkungsweisen. Die Kunst Paweł Freislers in den 1960er und 1970er Jahren", in: Springerin 1/09.
Thank you:
Patrick Komorowski, Agnieszka Polska