Mami Wata, 2010-11
Mami Wata is a painting of a young white woman stepping into a gigantic shell, one of the objects of the World of Gimel. The background is taken from a diorama rendering of the landscape around Potsdam before the last ice age.
The woman makes reference to the West-African sea goddess Mami Wata, who is often depicted as a woman with long black hair. The reason might be an exotic image of a snake charmer from France that became the definite image of the water goddess in Nigeria and elsewhere in West Africa on the turn of the 20th century.[1]
The painting was first shown in the exhibition Eyland (with Juliane Solmsdorf), in which we made reference to Marcel Duchamp: to his small work Coin de Chasteté (1963)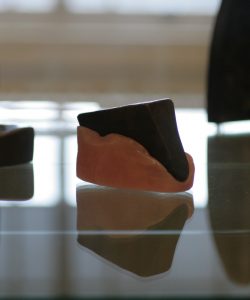 as well as to Duchamp's installation Etant donnés : 1° la chute d'eau 2° le gaz d'éclairage… (1946-66).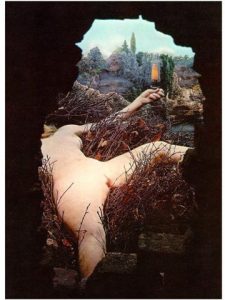 The woman lying in the dioramic grass becomes the naked artist Juliane Solmsdorf, modeling her own knee, photographed and painted by me.

Juliane Solmsdorf
Knie, 2010
Gesso, marble, wood, 60x60x24cm
The waterfall becomes a box filled with sand into which Juliane Solmsdorf peed, leaving behind a phallus-like cavity in the sand.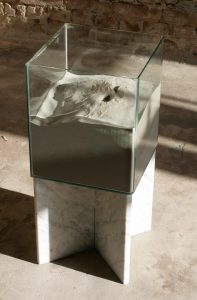 And on my painting of Mami Wata, the young woman seems to walk into a giant shell that could be a symbol of her sexual organ. Just as in Duchamp's Coin de Chasteté, the void (inside the vagina) turns into something to be inhabited. The young Berlin woman becomes a sea goddess of the wilderness that was during the last ice age were Potsdam is now.[2]
[1] "Circa 1887, a chromolithograph of a female Samoan snake charmer appeared in Nigeria. (…) Whichever the original image, it was almost certainly a poster of a celebrated late 19th-century snake charmer who performed under the stage name "Nala Damajanti", which appeared in several variations, particularly "Maladamatjaute", at numerous venues, including the Folies Bergère in 1886. This identification was also made by Drewal in a 2012 book chapter on Mami Wata. Despite exotic claims of her nationality, she was later identified as one Émilie Poupon of Nantey, France. This image—an enticing woman with long, black hair and a large snake slithering up between her breasts—apparently caught the imaginations of the Africans who saw it; it was the definitive image of the spirit. Before long, Mami Wata posters appeared in over a dozen countries. People began creating Mami Wata art of their own, much of it influenced by the lithograph." https://en.wikipedia.org/wiki/Mami_Wata