Der Wald (The Forest), 2019
In Der Wald (The Forest), Antje Majewski shifts her often globally oriented focus to a more local ecosystem—one currently being threatened by human intervention. Serving as the points of departure for these new paintings and video works are the central European forests endangered by recent summers' record high temperatures. The exhibition is closely intertwined with the artist's family history and highlights the generationspanning nature of the forest and its symbiotic relationship to humankind.
The large-format painting Passagen (2019) showcases a magnified view of the delicately crafted, sinuous passageways that bark beetles burrow in the trees that they infest. Here, Majewski renders the illustrative passageways created by these aptly named insects—Ips typographus (Buchdrucker, or "book printer") and Pityogenes chalcographus (Kupferstecher, or "copperplate engraver")—in monumental landscape format, using painterly qualities to lend them a presence that deftly straddles the figurative and the abstract. Especially during the extended periods of drought experienced in recent years, monoculturally raised spruce trees can become weak, transforming them into veritable breeding grounds for these beetles. This, in turn, has drastic ecological and economic consequences. The bark beetle's proliferation has become an indicator of an imbalanced ecosystem and raises questions about biodiversity, sustainability, climate change and resilience.
In the video work Der Wald (The Forest) (2019), Majewski navigates time and space by means of contemporary and historical imagery of forests set to music conceived for the film by Katrin Vellrath. Photographs from the early twentieth century are interwoven with recent video of the heavily deforested Flechtingen Hills in Saxony-Anhalt and the forests around Tharandt, a town nestled in the Ore Mountains that run between Germany and Czech Republic. The photographs themselves were taken by Majewski's greatgrandfather forestry scientist Heinrich Krieger (1887–1966), who avidly photographed the forests in and around Tharandt. He was especially taken by the forest's capacity as a dynamic system, projecting that the yield of a mixed woodland area would be far greater than that of monocultures. In Tharandt, Majewski follows in the footsteps of another ancestor, Karl Leberecht Krutzsch (1772–1852), who researched soil chemistry and the bark beetle at Germany's first forestry university. His grandson Hermann Krutzsch (1819–1896), a professor at this same academy, was instrumental in developing sustainable forestry practices.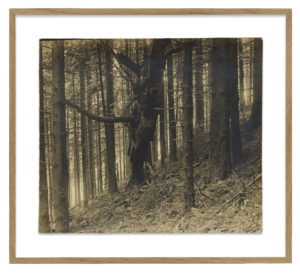 Also part of the exhibition is a reproduction of Karl Leberecht Krutzsch's 1825 study of the bark beetle, an original photograph by Heinrich Krieger and an ink drawing of a forest by Majewski's grandmother Helga Liebe (1918–2011). The Tharandt Forest is home to the burial plot of Heinrich Cotta (1763–1844)—the founder of Germany's first forestry university. Majewski's film shows the monumental oak trees that surround his gravesite. These were planted to honor his 80th birthday, and Karl Leberecht Krutzsch recounted the festivities to his son in a lighthearted letter from 1843. This letter has been printed as a poster for the show at neugerriemschneider.
The documentary film Über den Borkenkäfer (About the Bark Beetle) (2019) features the owner of a forest, a forester and a forestry scientist, as they elaborate on the widespread destruction that their forests are currently being subjected to. Next spring, Antje Majewski and the private forest owner Johannes Simons, whose destroyed forest is shown in Majewski's films, are planning to transform deforested areas into wildlife feeding grounds by planting wild fruit trees.
Der Wald (The Forest), 2019
4k video (color, sound), 8:47 min.
Director, camera, sound, editing: Antje Majewski
Photographs: Heinrich Krieger
Composer: Katrin Vellrath
Mezzo-soprano: Vizma Zvaigzne
Percussion: Daniel Eichholz
Recording engineer: Johannes Winde
Sound editor: Christian Obermaier
Über den Borkenkäfer (About the Bark Beetle), 2019
4k video (color, sound) 10:40 min.
Director, camera, sound, editing: Antje Majewski
Translation: Dylan Lustrin
With: Kristina Funke, Prof. Dr. Otto Wienhaus, Johannes Simons