Entering the Shell, 2010-11
Entering the Shell is a painting of a young white woman stepping into a gigantic shell, one of the objects of the World of Gimel. The background is taken from a diorama rendering of the landscape around Potsdam before the last ice age.
The painting was first shown in the exhibition Eyland (with Juliane Solmsdorf), in which we made reference to Marcel Duchamp: to his small work Coin de Chasteté (1963)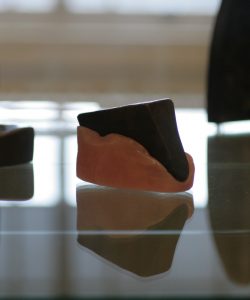 as well as to Duchamp's installation Etant donnés : 1° la chute d'eau 2° le gaz d'éclairage… (1946-66).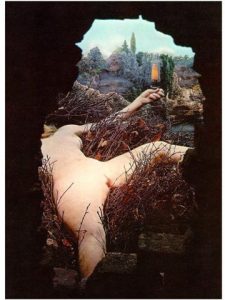 The woman lying in the dioramic grass becomes the naked artist Juliane Solmsdorf, modeling her own knee, photographed and painted by me.

Juliane Solmsdorf
Knie, 2010
Gesso, marble, wood, 60x60x24cm
The waterfall becomes a box filled with sand into which Juliane Solmsdorf peed, leaving behind a phallus-like cavity in the sand.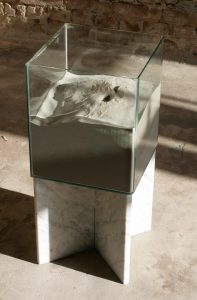 And on my painting, the young woman seems to walk into a giant shell that could be a symbol of her sexual organ. Just as in Duchamp's Coin de Chasteté, the void (inside the vagina) turns into something to be inhabited. The young Berlin woman becomes a sea goddess of the wilderness that was during the last ice age were Potsdam is now.[2]