Skarbek, 2005 / 2016
Skarbek is a figure of the fairy-tale world of Upper Silesia; a gnome who lives in abandoned mines and keeps watch of the underground treasures. As an earth spirit, he relates to death and the dead. He guards over the miner's ethos and punishes those who don't respect the mountain. Skarbek is unpredictable. Belonging to the realm of the inorganic, he follows its laws, which are alien to human beings in its timelessness and lack of air and life. The world underground consists of the same material that we ourselves will one day become.
Bytom is a city in which for centuries the mining of ores and later coal was the main source of income. The region is rich in underground treasures; coal was even excavated underneath the city. Today most of the mines have closed down. Many houses are standing oblique, have cracks or have collapsed; the tunnels below had been filled up, but they were still moving, and with them the upper crust on which the city was built. Unemployment is high; progress has left this city behind.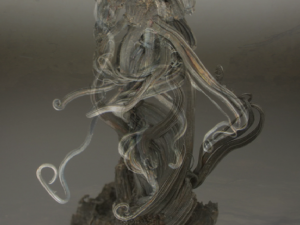 Skarbek (Reprise), 2016
For the installation for Objects do Things (curated by Joanna Zielinska) at Zamek Ujazdowski, Antje Majewski painted Srebro na płótnie ( Skarbek). The painting shows silver, as it can be found in the mountains: squeezed into strange forms by the veins inside the rock. Skarbek himself materializes in the form of three masks: a very large one, one of human size and another very small one, which was used for the head of the marionette. All three masks were bought in Mexico. With their dramatic gothic carvings they stylistically reflect the time in which the Spanish conquered Mexico and its rich gold and silver mines.
A digital slide show with photos taken by Antje Majewski shows the city of Bytom, the "upper city of the living", as it was in 2005 – gradually gliding underground, into the mines underneath the city, in which intruding people meet with a phantasmagorical Skarbek, a mouse, a dead miner, and the dancing treasures of the earth – silver, gold and crystal.
A new version of the dance theatre play was developed by Antje Majewski in close collaboration with the dancers, based on a libretto by Sebastian Cichocki.
It takes places in an imaginary underground world of the mines, in which a young man encounters Skarbek in different manifestations: as a young boy, played by a marionette, and a very old man. The young man is seduced by the dancing treasures of the earth. Gold and Silver appear only to disappear again, while he is trying to catch them. When he finally breaks down, Skarbek reappears to teach him to embrace his own organic nature, his mortality. Digital projections create a hallucinatory atmosphere, in which loss of space, asphyxia, death and rebirth are experienced by dancers and auditorium.
Skarbek (Reprise), 2016
Dance theatre play, 30 min
Director: Antje Majewski
Libretto: Sebastian Cichocki
Music: Katrin Vellrath
Dancers: Ilona Gumowska, Joanna Płóciennik, Vera Popova, Robert Wasiewicz
Marionette player: NN.
Skarbek 2005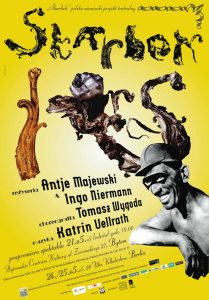 SKARBEK
A play by Antje Majewski and Ingo Niermann
Premiere/ Premiera/ Premiere:
21.5.2005, Bytomskie Centrum Kultury, ul. Żeromskiego 27, Bytom
Deutsche Premiere/ Premiera Niemiecka/ German Premiere:
24.5.2005, Volksbühne, Rosa-Luxemburg-Platz, Berlin
Starring: Witold Jurewicz, Anna Maria Krysiak, Iwona Olszowska, Beata Owczarek, Jacek Owczarek, Janusz Skubaczkowski, Anita Wach; Puppeteer: Wlodzimierz Pohl
Directors: Antje Majewski and Ingo Niermann
Choreography: Tomasz Wygoda
Librettto: Ingo Niermann
Set, costumes: Antje Majewski
Music: Katrin Vellrath
Light design: Piotr Pawlik
Assistant Director: Dorota Sajewska
Dramaturgical collaboration: Götz Leineweber
Music production: Christoph de Babalon
Stage design assistance: Daniel Gantz
Set construction: Jerzy Cieslicki
Costume tailor: Krystyna Szczepan
Costume assistance: Dominica Pasnik
Marionette: Rafal Budnik
Mouse: Martine Maffetti
Production:
Galeria Kronika, Bytomskie Centrum Kultury, Büro Kopernikus
Galeria Kronika: Sebastian Cichocki
Collaboration: Katarzyna Bochenek, Agnieszka Terminska
Bytomskie Centrum Kultury: Dagmara Gumkowska, Izabela Jasinska;
Director: Pawel Koj
Büro Kopernikus: Stefanie Peter, Isabel Raabe, and Bärbel Schürle
Video documentation of the show at Volksbühne am Rosa-Luxemburg-Platz, Berlin:
Director, production: Nana Rebhan
Camera: Patricia Lewandowska
Documentary film


Nana Rebhan, Skarbek 2005, DV, 45 min
Director: Nana Rebhan
Camera: Patricia Lewandowska
Production, 2nd camera, sound: Nana Rebhan
Editing: Justyna Hajda
Thank you:
Everybody who made Skarbek possible; especially Tomasz Wygoda, all the dancers, Sebastian Cichocki, Stefanie Peter and Christiane Mennicke for their trust, as well as Pawel Koj, Izabela Jasinska and Dagmara Gumkowska. The employees of Kopalnia Bobrek-Centrum (Bytom) and Andrzej Tomaszewski of Skansen Gorniczy "Królowa Luiza" (Zabrze) showed us the world underground; the residents of Bytom allowed us to take photographs above.
Exhibitions / Performances:
Skarbek (Reprise), Schinkel Pavillon, Berlin, DE 2016
Objects Do Things, Centre for Contemporary Art Ujazdowski Castle, Warsaw, PL, 2016
My very gestures, Salzburger Kunstverein, Salzburg, AT, 2008
Architektura intymna architektura porzucona, Galeria Kronika, Bytom, PL, 2006
Skarbek, Bytomskie Centrum Kultury, Bytom, PL, 2005
Skarbek, Volksbühne am Rosa-Luxemburg-Platz, Berlin, DE, 2005
Publications:
Hemma Schmutz, Caroline Schneider (Ed.), Antje Majewski: My Very Gestures, Salzburger Kunstverein und Sternberg Press, Salzburg, Berlin, New York, 2008
Skarbek, Lukas & Sternberg, New York 2005
Texts by Ingo Niermann, Sebastian Cichocki, Stefanie Peter
Photos and photo-collages by Antje Majewski
Music by Katrin Vellrath, produced by Christoph de Babalon
Graphic design Tomasz Bierkowski
Lukas & Sternberg, New York
October 2005 English / German / Polish