Twigs, 2001; My Very Gestures… Enchanted, 1998 + 2001
Twigs, 2001

Twigs, 2001
Black and white offset prints,
Edition of 500, 60 x 90 cm
These black and white photos of twigs, branches, a tree house, a path leading into the forest and a small bush in the snow were printed as offset posters for the show Twigs at the Goethe Institute London in 2001. The show room of the Goethe Institutewhere I had previously shown my photo collages in 1998 (Schöne Welt /Beautiful World), had by then been converted into a café with only one wall left to show something on, so I decided to make some café art. The idea was to give the students that would drop by after German class or visitors from the nearby Natural History Museum some nice art to look at and to take home, and all for the student–friendly price of 10 pounds.
Since twigs are closely related to childrens' and hermits' forest-dwelling huts, you might want to look at the third part of L´invitation au voyage: Ghosts, or at the hut that a bum built himself near the motorway (One too many), or read my excurse on hermit's huts in Chinoiserien.
Exhibitions
Twigs, Goethe Institute, London, 2001
My Very Gestures… Enchanted, 2001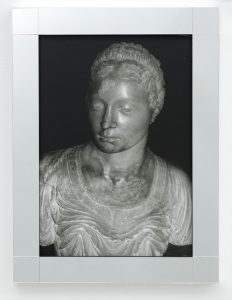 This series of black and white photos (which I had developed myself on warm tone baryte paper) was done for the show Brown in The Approach, curated by Gary Webb. The images are framed in mirror frames and should be hung in a rectangle.
In these photos, we meet with real and living statues, reflections that look like sculptures, and visionary moments. The Living Statue, Sarah Mucaria, whose photo I had taken on the street in Milan, later performed for the show Video. Featuring Sarah Mucaria and Krylon Superstar.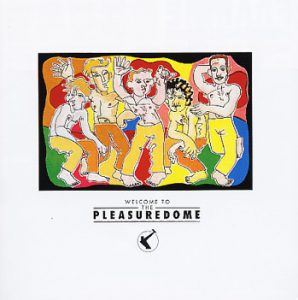 The title is taken from the Frankie goes to Hollywood song Welcome to the Pleasuredome[1], in which the poet says: "I have forgotten how to walk and speak. I am on the way toward flying in the air, dancing. My very gestures express enchantment." (Paul Morley is paraphrasing Friedrich Nietzsche, Die Geburt der Tragödie[2]). This maybe summarizes more than anything else what I would like to get at.
This group show was so convincing to me, made so much sense, that for the first time I thought about curating myself. Normally curators have a written concept and they are keen on making the artists fit that concept. Gary, who had written a wonderfully incongruous text about materials for Saturday, put together personalities rather than artworks. I curated the show Splendor Geometrik, with some truly geometric art, to which I had in turn invited Gary Webb.
[1] When I wrote my first and only novel, about some poor kids that arrive at a future megapolis, where they find work in an amusement park inside a glass dome inspired by E.L. Boullée or Buckminster Fuller, I called it The Pleasuredome. They start having wild parties, things get out of hand, and they form a kind of anarchist state that eventually develops rules of his own. Some try to become peaceful spliff-smoking ecologists, while others establish a fascist government complete with police and secret service. Finally they run out of supplies and have to go outside, where they find that the world had forgotten them because a war is going on. (The novel was never published.)
[2] "In song and dance man expresses himself as a member of a higher community; he has forgotten how to walk and speak and is on the way toward flying into the air, dancing. His very gestures express enchantment. Just as the animals now talk, and the earth yields milk and honey, supernatural sounds emanate from him, too: he feels himself a god, he himself now walks about enchanted, in ecstasy, like the gods he saw walking in his dreams. He is no longer an artist, he has become a work of art (…)" Friedrich Nietzsche, The Birth of Tragedy, 1872
Thank you:
Sarah Mucaria, Ingo Niermann, Gary Webb
Exhibitions:
My very gestures, Salzburger Kunstverein, Salzburg, AT, 2008
Brown, The Approach, London, England / 2001

Publications:
Hemma Schmutz, Caroline Schneider (Ed.), Antje Majewski: My Very Gestures, Salzburger Kunstverein und Sternberg Press, Salzburg, Berlin, New York, 2008
Sven Lager and Elke Naters (Ed.), The Buch, Kiepenheuer & Witsch, Köln 2001, p.283 – 291
My Very Gestures… Enchanted, 1998

 (images: coming soon)
My Very Gestures… Enchanted, 1998
81 slides, 20 min, slide show and CD
I had used the same title before, for a multimedia-show in the old sense – slides and sound, that I had done together with Ingo Niermann for the show El Niño in Museum Abteiberg, Mönchengladbach (1998).
The slide show consists of about 80 photos that I had taken while watching TV. Most of them show some kind of transition. Sahara Nomads in their tents, set up with some twigs and sticks and very colorful cloth, a Chinese woman on the way to her hometown, an American police series, in which the main actor discovers she is a lesbian, a romantic kiss between teenagers, a pregnant woman in search of the father of her child in a Cuban film… they all are glued together by the strangely symphonic music composed of samples by Ingo Niermann.
We both believe that television is essentially a great way to learn more about the world. I later used TV-images for two of my series of paintings for Einer zu viel (One too many), 1999-2001. All of these little twigs cross each other and form a thicket, and they all go back to Hütte (1993).
Exhibition:
El Niño, Museum Abteiberg, Mönchengladbach, 1998
Catalogue:
Veit Loers, El Niño, Städtisches Museum Abteiberg, Mönchengladbach 1998